The Northern Territory has registered its second COVID-related death, after an Aboriginal woman in her 40s died at the Royal Darwin Hospital.
Most important points:
There are now 3,730 active cases of COVID-19, most of them recorded in Greater Darwin
There are 32 in the hospital throughout the NT, none in the ICU
Outbreaks have now also been recorded at the Alice Springs Correctional Center and a kidney hostel in Alice Springs
NT Vice Chief Minister Nicole Manison said the woman was from Darwin's Bagot community.
"The woman was very unwell, she was in the ICU," said Ms. Manison.
"She did have underlying health issues; she was fully vaccinated.
"I want to express my deepest condolences to her family, to the Bagot community, because we know they are going to hurt right now and I also want to express my gratitude and condolences to the staff at the ICU, because we know they have worked incredibly hard here."
It is the second COVID-related death in the NT to date.
It is not known which variant of the virus the woman had.
NT Deputy Chief Health Officer Charles Pain said the woman who died had not had her booster shot, and urged eligible people to roll up their sleeves.
"Vaccination is still our best defense," he said.
"We will unfortunately occasionally see people who have been vaccinated who will succumb to this disease, but booster doses are the best additional defense against this disease, especially the Omicron variant."
412 new cases across the NT
There were 412 new cases registered in the 24 hours to 8 p.m. last night, about a third of the cases reported through rapid antigen testing.
There are currently 32 patients with COVID in regional hospitals, none in the ICU.
Across the area, Ms Manison said there were now 3,730 active cases of COVID-19.
Just over half of these active cases were in people ages 20 to 39, she added, with 75 percent of the cases in the Greater Darwin area.
Ms. Manison said about 15 percent of active cases in the NT were in the Alice Springs area, about five percent in Katherine and four percent in East Arnhem.
Two more cases have been registered in the remote community of Yuendemu, and 45 cases have now been linked to the community.
A lockout is currently in place in Yuendemu and Yuelamu, which will be lifted at 5 p.m. on Thursday.
Outbreaks related to prison, kidney center
Outbreaks have now also been recorded at the Alice Springs Correctional Center and a kidney hostel in Alice Springs, where people from out of town stay to receive dialysis treatment.
Ms Manison said 20 cases were related to the Alice Springs Correctional Center, including six staff members and 14 inmates.
"They test everyone. There's a lot of work going on there," she said.
"We know we have high vaccination rates in those penitentiaries."
Eight additional cases are linked to the Alice Springs Forensic Facility, including seven inpatients and one staff member.
Four cases, including three patients, have been confirmed at the Alyerre Renal Hostel.
"So again, there was work going on with the hostel to make sure those people are getting the very best care as they have those underlying health conditions," Ms Manison said.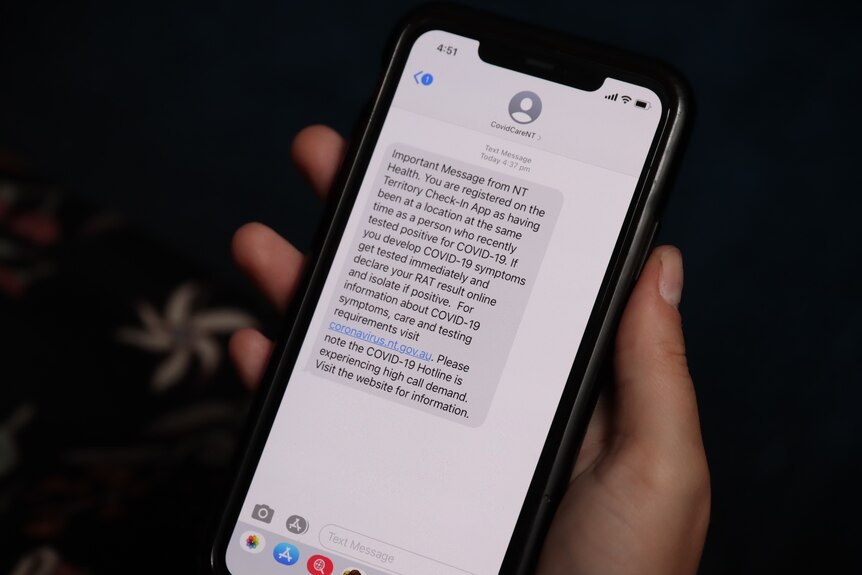 'Thousands' of messages sent after error
Ms. Manison said "thousands" of text messages were sent to Territories overnight so that if they had been in the same location as a confirmed COVID case, they would be admitted.
It comes after the NT government admitted on Friday that there was a significant error in reporting, with no users of the COVID-19 check-in app receiving any notifications in the past week.
"My message to people is to make sure you don't get alarmed, but make sure you monitor your symptoms. If you're symptomatic, go outside and get a COVID test," Ms Manison said.
"If you've been exposed to the site if you get symptomatic. Make sure to get that test done."
More to come.
Loading form…
.