Ever since he was a child, artist Jackson Robinson has always wanted to do something artistically inspired by The Lord of the Rings. Recently, he was finally able to turn that dream into reality with a wildly successful Kickstarter project, releasing a Lord of the Rings-themed playing card game complete with his own hand-drawn art.
More than 6,400 people backed his The Fellowship of the Ring deluxe playing card game in just under a month. It is now 25 times more successful than its initial goal.
"I knew it would be successful purely because of the love of the IP and my followers, but I had NO idea it was going to be as successful as it has been," Jackson told TheOneRing.net .
Robinson says he's worked as a professional illustrator for over 20 years on major brands and franchises ranging from Star Wars and Marvel Comics to Disney and Coca-Cola, but he's always loved The Lord of the Rings. His favorite artists working in the Tolkien medium include John Howe and Alen Lee, but he also loves the work of Donato Giancola and the woodcuts of Tolkien Society Best Artwork winner Tomas Hijo.
"Like many others, the richness of the story and characters in Professor Tolkien's work appealed to me. I've also always found it fascinating that I can never seem to be at the bottom of the well of creativity in any of his works or worlds," says Jackson.
He says the first significant Tolkien artwork he made was a map of Middle-earth.
"I did this over 20 years ago, during my undergrad years at the University of North Texas. The map still hangs in my office today.
However, his interest in playing cards dates back to around 2013. He says he only stumbled upon them by accident while working in the video game industry in Los Angeles.
"I made my first Kickstarter playing card to make some extra money. It went viral, and I haven't looked back. I was able to start designing playing cards full time" , explains Jackson.It was the basis of the company he founded – Kings Wild Project.
He says that ever since he started Kings Wild Project, a Lord of the Rings deck was on his to-do list, and he immediately began researching the requirements for an official license from Middle-earth Enterprises. One of the prerequisites was that his company must have been operating in his industry for at least five years.
Jackson says the day after the Kings Wild Project reached the five-year mark, he contacted Middle-earth Enterprise to request a license to design Lord of the Rings-themed playing card games. .
He generally begins his creative process by collecting numerous references, in search of materials and artistic styles from which he can draw inspiration.
"Then I start drawing a character or a court map. I usually start with the king of spades. I'm going to work on a terrain card or a back design until I feel like I "find" it, and I'll continue the same process with the other characters and cards," Jackson says. "So many things that I deliberately NOT plan for…It feels like the story is being told for the first time as each new character is revealed during the creative process."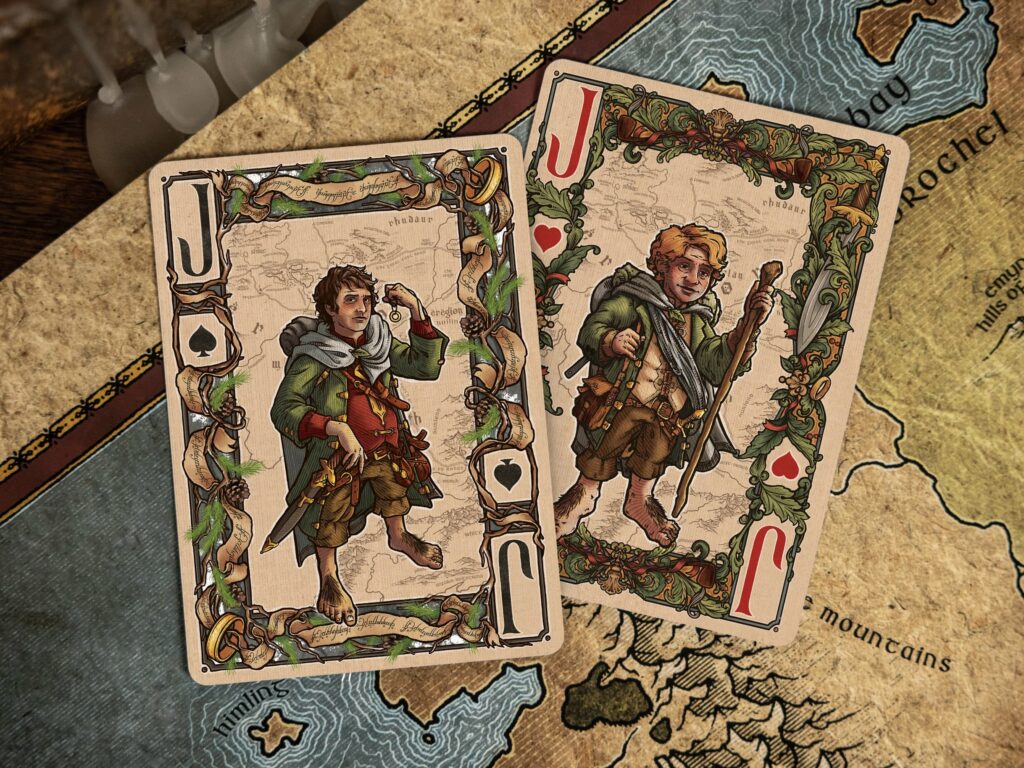 Jackson says he usually doesn't need to repeat designs very often.
"But I went through a massive reboot with [the deck for] The Lord of the Rings. I had almost finished almost half of the game when I wanted to try something different. I ended up following the new direction, but in doing so, I created two decks that have the same lineup of characters but are done in two very different styles.
His favorite cards from his Fellowship deck are the Glorfindel card for the deck that is now on Kickstarter, and the Frodo card from his "scrapped" initial deck. He says he plans to return to this alternative game at a later date.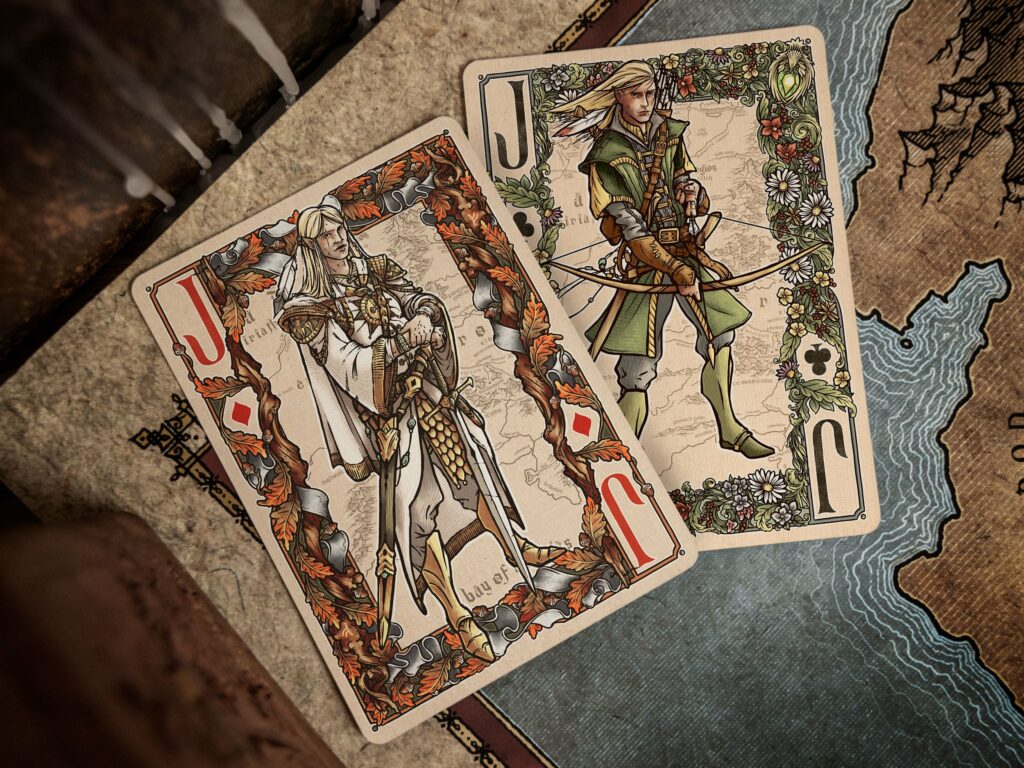 The projects don't stop there. He also has a Two Towers-themed deck tentatively set to launch on Kickstarter in late fall, and one for The Return of the King in early 2023. He hopes to produce a Hobbit-themed deck in the spring. 2023. He told TheOneRing.net that he also recently obtained a license to produce The Lord of the Rings double-sided puzzles. Look for a Fellowship of the Ring puzzle in time for the holiday season this year.
Readers can visit Kings Wild Project to learn more about his playing card projects, including his Fellowship of the Ring-themed game. As of press time, the Kickstarter for The Fellowship of the Ring bridge has 50 hours until it closes. You can see it here.