Novak Djokovic has admitted attending a personal interview and photo shoot while knowingly being COVID positive, saying he didn't want to abandon the journalist in question.
In an Instagram post, the world No. 1 says he wants to "address the continued misinformation about my activities and attendance at events in December in the run-up to my positive PCR COVID test result".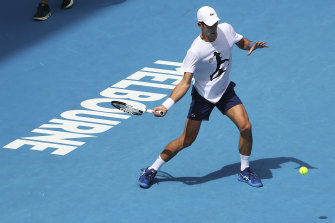 He went on to say that he attended a basketball game in Belgrade (Serbia's capital) on December 14, after which a number of people were reported to have tested positive. Djokovic said that despite not having any symptoms, he took a rapid antigen test on December 16, which was negative, before having a PCR test the same day.
The world No. 1 said he presented prizes to children the next day at an event while asymptomatic and "feeling fine" (after testing negative with another rapid antigen test).
"I had not received the notification of a positive PCR result until after that event [on December 17]' he wrote on social media.
Loading
The tennis star said on December 18 that he continued with a photo shoot and an interview with a French newspaper, but canceled all his other commitments.
"I felt obliged to continue and the The team interview because I didn't want to let the journalist down, but made sure I was socially distancing and wearing a mask, except when my photo was being taken," said Djokovic.
"While I went home after the interview to isolate the required period, on reflection this was an error of judgment and I accept that I should have resisted this commitment."
Djokovic has also clarified that he did indeed make a mistake on his Australian entry form (the section asking if he had traveled before entering Australia). He says his "support team" answered no to that question when they should have said yes. There are reports that the tennis star was in Spain before coming to Australia.
"My agent sincerely apologizes for the administrative error. This was human error and certainly not intentional," said the world's number one.
"We live in challenging times in a global pandemic and sometimes these mistakes can happen.
"It's always an honor and a privilege to play at the Australian Open…I just want the chance to compete against the best players in the world and perform in front of some of the best crowds in the world."
"I will not make any further comments out of the utmost respect for the Australian Government and their authorities and the current process."