Yannick LaSalle, who has worked at Les Fougères for more than a decade and became its chef five years ago, said his new job will give him a lot more time with his family.
Content of the article
The Supreme Court of Canada has hired an acclaimed chef who thrives when his food is judged.
Content of the article
Yannick LaSalle, winner of the 2019 Canadian Culinary Championships, will leave Restaurant Les Fougères in Chelsea at the end of August. Beginning in September, as the court's new executive chef, LaSalle will prepare lunches for its nine justices, as well as meals for dinner parties and receptions with additional outside help.
"There is no team — it's a one-man show," LaSalle, 35, said in an interview this week.
"It's nothing I thought I would do in my career. My dream is to open a restaurant (my own)," he added.
But LaSalle, who has worked at Les Fougères for more than a decade and became its chef five years ago, said his new job will give him a lot more time with family. The father of an 11-month-old child specifies that he works 16 hours a day at Fougères.
Content of the article
According to his job offer, his new 40-hour-a-week position will pay up to $38.57 an hour and give LaSalle July and August of each year. The new position also comes with a pension, LaSalle added.
LaSalle said cooking for the Supreme Court came on his radar when Oliver Bartsch, the court's current chef and formerly then Prime Minister Stephen Harper's chef at 24 Sussex Dr., attended the year last at an event in Les Fougères and told LaSalle that he could retire soon.
LaSalle said more than 20 people applied for the position. To win it, he had to write a 2,500-word cover letter, pass written and oral exams, and finally cook for the judges and for Bartsch.
For his new position, LaSalle says he will create new menus daily and source his own ingredients for soups and salads, fish, meat and vegetarian main courses and light desserts. "I've heard that judges like to eat healthy. It's a good thing," he said.
Content of the article
LaSalle said he will miss cooking for guests at Les Fougeres, which this year ranked 77th on the list of Canada's Top 100 Restaurants.
"That's kind of what I cook for, to bring love to the table," he said. "I don't know if I will be able to find that in this new chapter, but I'm up for the challenge. I want to see what it's all about. We will take it day by day.
LaSalle grew up in the Pontiac and worked in restaurants in the Outaouais before joining the Fougères team. He has also completed internships in Michelin-starred restaurants in France and the United States. In the fall of 2018, LaSalle won the Ottawa edition of Canada's Great Kitchen Party contest, qualifying for the national championships.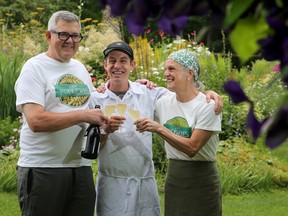 Charles Part, who opened Les Fougères with his wife, Jennifer, in the early 1990s, said he had yet to find a replacement for LaSalle.
Content of the article
Part said he interviewed strong candidates, including chefs who "might have a different approach to food" at Les Fougeres, a champion of seasonal farm-to-table cuisine since Part was the original chef. "We're going to see what the strengths of these people are," Part said.
Part said LaSalle's dedication and character were "exemplary." Part and his wife have gone through a "grieving process" since learning LaSalle was leaving, he said.
"He's one of our greatest friends," added Part, who himself won Ottawa's 2008 team leader competition. When LaSalle became leader, Part devoted more energy to the restaurant's large shop filled with take-out food and its wholesale operations.
LaSalle said he couldn't ask for better mentors than Part and his wife. "They've been so nice to me, so generous," he said.
He said it was very important to leave the kitchen at Les Fougères in good hands.
"The new chef coming in, he will bring his own touch to the business, which is good. That's not a bad thing. Good things could happen," LaSalle said.