Dust jacket artists rarely become household names, even in literary homes, but there are a few whose work features such a strong visual identity that readers and bibliophiles can spot them, or even seek them out, in the case collectors.
Anne Bascove, known as Bascove, is one such artist, a master printmaker, illustrator and painter who designed dust jackets for Alice Walker, Robertson Davies, Jerome Charyn, TC Boyle, JM Coetzee and others.
"She rode the crest of a wave that infused symbolic and metaphorical representation into American illustration," writes Steven Heller, former art director of the New York Times. "In fact, she embodied a broader rejection of the conventional literalism and romanticism that dominated book marketing for decades; it transcended commercial norms, imposed new tropes, and appealed to readers who had learned to – to rephrase the old truism – narrate a book in his blankets.
Many of these iconic covers are on display in Bascove: the time we spend with words at the Norman Rockwell Museum (NRM) in Stockbridge, Massachusetts, until June 5. Derived from the museum's 2017 acquisition of 500 original Bascove drawings, prints, paintings and block prints, the exhibition features 75 objects that reveal his signature style.
Illustration for "Steve Biko's Triumph" by Karen Stabiner, Premiere Magazine, November 1987 (ink, watercolor and colored pencil on paper). Norman Rockwell Museum Collection, NRM.2017.03.380, © Bascove. All rights reserved.
The show opens with Alice Walker's books: a 1976 edition of her poems, Once; the novel, Meridian, published the same year; and a 1977 edition of the novel, The Third Life of Grange Copeland. For all three, Bascove used woodcuts and watercolor, achieving a bold look full of thick, dark lines and blocky letters, brightened by splashes of refreshing color. Woodcuts are "ridiculous" and "time consuming," she said in a March 12 virtual chat hosted by the museum, but "I loved doing woodcuts, so it's what I have done. You can't get this line other than cutting it out with a knife.
Those early commissions were hard-earned. Although she attended the Philadelphia College of Art and trained as an illustrator, a glass ceiling slowed her path. "There weren't a lot of women in the business," she says in a video interview shown in the exhibit gallery. "The illustrators, the few that there were, did fashion and children's books, and then you could do women's magazines."
Soon, authors are asking Bascove for their books. "I found a place doing literature, which was extraordinary because I love to read."
She also did this kind of work, landing her first assignments at red book then the New York Times while she nibbled at the artistic directors of publishing houses. At the end of the 1970s, she produced jackets for the Harcourt editions of Maigret books by Georges Simenon, books by Virginia Woolf Wavesand Luisa Valenzuela Strange things happen here, among others. She did not always work in woodcut, opting for gouache, felt-tip pen and colored pencil, depending on the project, but she continued to focus on expression, on faces and bodies, sometimes with a surreal touch.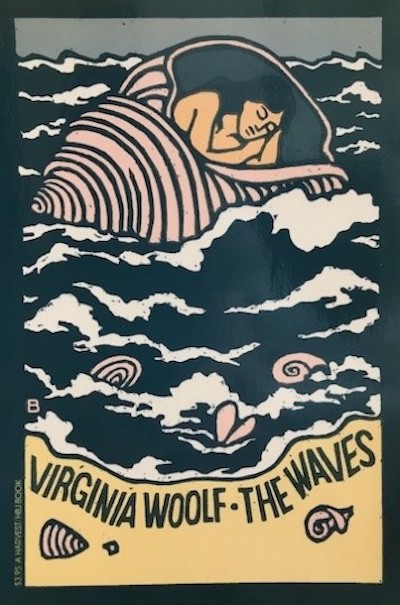 Cover illustration for Waves by Virginia Wolff, 1995 (ink on paper). Norman Rockwell Museum Collection, NRM.2017.03.256 © Bascove. All rights reserved.
Soon, the authors solicit her for their books. "I found myself doing literature, which was amazing because I love reading," she said.
Bascove seemed a particular favorite for South African literature. On display at the NRM: three versions of his work for a 1987 reprint of Alan Paton's 1948 novel, Weep, beloved country, and three for André Brink's The plague wall, from 1984. She spoke about the latter at the March 12 event, recalling that she encountered backlash from publishing executives about the prominent appearance of black people on the covers of books, even when the main character, as in The wall, is black. "So I made it blue, and it worked…I tried my best to work within that system," she said.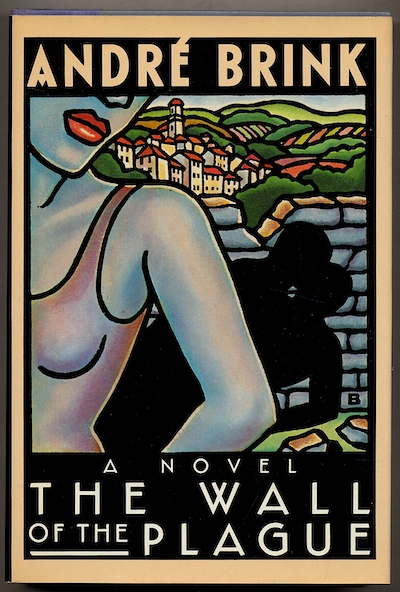 Cover illustration for The plague wall by Andre Brink, 1985 (ink on paper).
His order for Nadine Gordimer July people was killed for this reason, Bascove said. His work on the novels of JM Coetzee also illustrates this point. The art she created in the early 80s for her Waiting for the barbarians, depicting a white man washing the unattached feet of a colored person, caused the book to be banned in the South. When she produced an ink, watercolor and colored pencil illustration for Coetzee's The life and times of Michael K. featuring the title character, a black South African woman who embarks on a long journey during apartheid, she was sent back to the drawing board and advised to avoid another controversy. One of the highlights of the NRM exhibition is the opportunity to see his initial concept for Michael K. next to the one finally approved.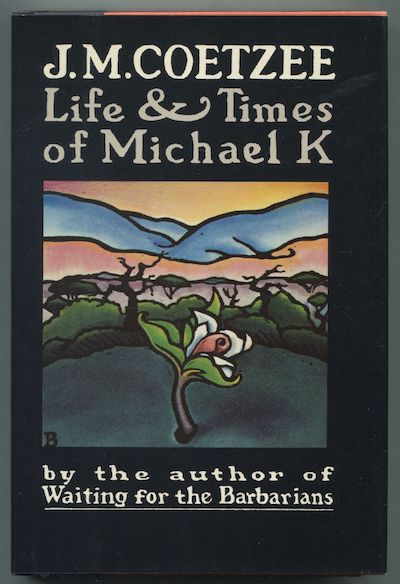 Cover illustration for The life and times of Michael K. by JM Coetzee, 1984 (ink on paper).
In part, she credits Norman Rockwell with leading the way towards social justice in art, referencing his 1964 painting, The problem we all live with, as a source of inspiration. She also noticed how "everyone was white" on TV shows and magazines when she was growing up, which she thought had the opportunity to change. "I always tried to be inclusive before I even knew what inclusion was," she said.
This ties in with Bascove's overall design philosophy when working on book jacket art. "When you're working on a piece of work, what an illustration is, you're trying to visualize what someone else has thought and written," she said. "You really want to be honest and true to what this writer put into this book."
The artist's self-proclaimed obsession with books can be seen in his fine art, some of which is included in the exhibition. In one of his collages, Emily wore whiteshe references Emily Dickinson and uses lace, thread and needles to consider the idea of ​​creativity, especially for women.
Another collage, The time we spend with words, from which the exhibition takes its name, remixes dictionary pages, photography, drawing, stencils and microchips. Many of her oil paintings also feature readers and libraries, and in 2001 she published a book of her literary paintings, Where the books open: A Reader's Anthology of Spirit and Passion.
But her work with authors has always been special, each manuscript "like a gift," she says. "I am intrigued by stories of wit or mystery, but especially of societies facing dehumanizing situations, told through the unyielding voices of those who dare to write about what is happening around them. My goal is always to create, with the greatest respect, an image that interprets their words.