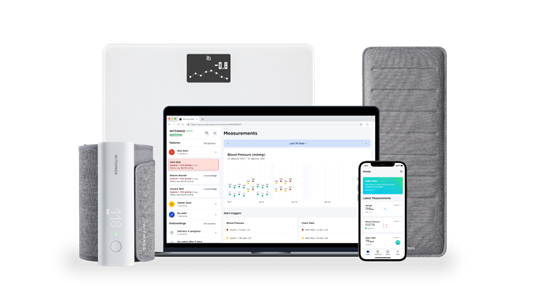 What you should know:
– Withings Health Solutions unveils its RPM (Remote Patient Monitoring) solution, designed to put the patient experience back at the heart of telehealth. Benefiting both the patient and the provider, the Withings RPM solution addresses the challenges that cause friction for healthcare teams and patients when it comes to long-term medical requirements.
– Led by Antoine Robilard, Withings Health Solutions offers a dual approach for patients and providers, offering both the RPM solution and cellular devices, such as scales and blood pressure monitors, that enable continuous data tracking of a patient and provide providers with a transparent, frictionless and open platform that enables patients to understand their medical bills.
---
Context of the Withings RPM solution
The Withings RPM solution is the result of two years of development as it seeks to rebalance current systems that traditionally focus on vendor integration capabilities and do not always put the patient experience at the forefront of the equation. Patients are the key to RPM, they power the solutions by providing the datasets that enable providers to assess their clinical needs. However, patients must commit to using the service and continuously track their data, in order to receive correct treatment plans that target their exact needs.
Withings RPM allows providers to:
Dramatically simplify the onboarding process – With just a few simple clicks, patient devices can be ordered and shipped to recipients in moments. Doctors can also design care plans and set goals for each patient in seconds.
· Easily manage multiple patient data with automated alerts and reminders covering both patient health data and program compliance indicators. These include alerts on device usage (both initial setup and continued use) as well as alerts when the patient's vital signs require action.
Improve patient engagement with the ability to send regular communications to patients through their preferred communication channel (SMS, phone, and integrated video calls) that act as a reminder, provide additional guidance, and encourage engagement.
Withings RPM allows patients to:
· Receive beautiful cellular-enabled devices that require no setup, are extremely easy to use, and autonomously transmit private and secure data.
Access to a dedicated Withings Health app and AI-powered digital assistant, which guides them through all aspects of a program, including device tutorials and guides, accessing their data from health and their measurement plans, as well as educational content about their chronic disease. sickness.
Improve compliance with automated alerts to encourage action and gamification messages and rewards for making progress.
· Improve outcomes through increased frequency of data that enables healthcare professionals to provide better care.
· Conveniently manage their health conditions and relationships with the extended healthcare team.
"Since the launch of Withings MED PRO CARE, our first remote patient monitoring solution, we have continued to assess the market to identify pain points and identify strategies to allow RPM to take off and finally be distributed to scale," said Antoine Robiard, Vice President of Withings Health Solutions. "In our analysis, the missing ingredient so far is an attention to simplicity and a focus on the patient experience. Most effort has focused on technical integration for vendors, which, while extremely important, is not enough for RPM to succeed. Launching an RPM program, onboarding patients, monitoring them and helping them take control of their health should be easy for all stakeholders. Our user engagement strategies have successfully assured billions of health metrics and millions of people to better manage their health. With our new RPM solutions, we are excited to bring our expertise to the industry," added Robilard.