Ms Trebilco buys all her clothes except underwear in op shops, and bargains have included snaring a Gianni Versace dress for $7, and a large pair of vintage Yves Saint Laurent sunglasses for $6.
But she is not precious. "I'll wear anything including cheap stuff. Kids' or men's clothes, or costumes."
She keeps an eye out for "something different, some sort of different shape or a really fabulous pattern or an amazing vintage piece."
She often makes her own accessories, affixing a doll's head or fairy wings to head pieces, or turning a water filter jug ​​into a handbag.
Her four-year-old Facebook page, Veteran Vamp — A Thriftilicious Fashionista, has 13,000 followers
Yarra Ranges based photographer Pauline Klemm has twice stopped her car and got out to photograph Ms Trebilco and her latest outfit, describing her as "an incredible woman" and "a showstopper."
Ms Trebilco was born in Papua New Guinea to Australian parents – her father worked in the public service – but her family moved to Canberra when she was a baby, and she grew up there.
She moved to Melbourne in 1984 partly to follow her beloved AFL team Carlton, and to work as a secretary at the Australian Tourist Commission. She lived in South Yarra for over a decade. She married her husband Leigh in 1990, and they moved to the Dandenong Ranges 26 years ago.
Before retiring two years ago, Ms Trebilco worked in administration at the University of Melbourne for 20 years at the dental school and as a private bookkeeper and dog walker.
She has never worked in the fashion industry but started op shopping over 26 years ago.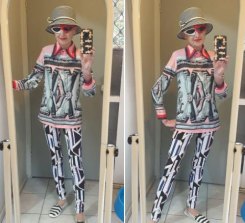 She remembers being pregnant with her son (now aged 25) and visiting local second-hand clothes stores. It was a handy way of sourcing clothes for her son as he grew.
Finding fabulous pieces for herself and altering them to fit developed into a form of self-expression. "I feel like I'm creating artworks that center on clothes," she says.
Ms Trebilco says at op shops, "there's always the chance you might find something brilliant. That's the joy of it."
Loading
She shops and posts for art and for fun, and says it's nice when others enjoy it, too.
"Second-hand clothes are my couture, the footpath is my runway," she says.
She hopes her fashion adventures inspires others "to step out of the box. Because it's fun, to move outside the rules and to experiment — use a skirt for a dress, a book lamp as a necklace and don't be afraid to try different colors.
"No one's going to tell me I can't wear a certain colour. Actually, if they did I'd probably wear it all the time. Life's too short for all these restrictions."
A cultural guide to going out and loving your city. Sign up to our Culture Fix newsletter here.