To offer or not to offer… is that even a question?
This week in Los Angeles, August 8-12, you'll find tons of free ideas, including an Aqualillies performance, a free comedy show, free movie screenings, free days at LACMA and The Autry , a sunset concert at Skirball, Dapper Day at the original Farmers Market, Levitt Pavilion concerts, and more.
Advertisement
Things to do
Aqualillies summer water show -> After a pandemic break, the Aqualillies summer water show at Hotel Figueroa returns Monday for an evening of live performances, cocktails, music and sirens, all in tribute to the late actress Esther Williams and her popularization of the art of synchronized swimming. Free to attend. From 7 p.m. to 9 p.m. More info here.
The secret show -> This monthly comedy show at The Blind Barber in Highland Park pops up every second Monday. On August 8, hosts Jono Zalay and Logan Guntzelman host a lineup that includes Laura Kightlinger, Johnny Pemberton, Kiry Shabazz and Ali Macofsky. Free to attend with RSVP. Get more information here.
LIFE CYCLES at Japan House LA – Stop by Japan House LA this week to see Tanabe Chikuunsai IV's LIFE CYCLES exhibit, which features a large-scale installation constructed from 10,000 woven strips of bamboo held together by tension. The exhibition runs until January 15, 2023. Japan House is open daily from 11 a.m. to 6 p.m. More info here.
Black Affairs Scavenger Hunt -> Mobile Farmer's Market Prosperity Market Holds Second Annual Black Business Scavenger Hunt all the month. The interactive promotion includes more than 50 local black-owned businesses. Customers can discover and visit new places and then check in to earn collected points for special prizes. The event now runs until August 27. Get more details and check out the "treasure map" here.
Free second Tuesdays -> Autry Museum and Los Angeles County Museum of Art offer free admission every second Tuesday of the month.
Summer night cinema -> Summer Night Cinema at The Hammer continues Tuesday with a projection Watts Tax, which documents a one-day concert that took place at the 1972 Watts Summer Festival. The screening is free and includes gallery access, plus drinks and bar bites for purchase. More info here.
Moonlight movies on the beach -> Moonlight movies on beach screens Lucas at the beach of Granada on Tuesday and Star Wars Rogue One at Long Beach City College, Liberal Arts Campus on Thursday. Both screenings begin at dusk. More info here.
Kalli Art: real dreams -> Kalli Arte, an art collective formed by Boyle Heights-born duo Adriana Carranza and Alfonso Aceves, presents a new residency exhibition at Self-Help Graphics & Art through September 23. royal dreams is rooted in the ecosystem of Boyle Heights, symbolically represented here by a large-scale central sculpture that branches out to aspects of the artist community, while connecting to age-old traditions. Visitors can RSVP to visit the exhibit on From Tuesday to Friday 10 a.m. to 5 p.m. More info here.
Dragon House at NHM -> We know that the Natural History Museum has a lot to offer when it comes to dinosaurs, how about dragons? Through September 7, NHM is teaming up with HBO for a new pop-up exhibit exploring the mythical world of the new original series. Dragon House. Learn about the Targaryen dynasty and the dragons that ruled alongside them while discovering the series' new costumes and accessories. And yes, there will be a replica of the Iron Throne on hand for photo ops. Included with museum admission. Included with museum admission. More info here.
Girlpool in Amoeba -> Catch a free performance of Girlpool on Amoeba Music on Wednesday. The show is for all ages starting at 5 p.m. More info here.
Shakespeare in the park -> ISC's Shakespeare in The Park continues this month with performances by macbeth at Griffith Park on Wednesdays at Sundays until September 4. Productions are free, but donations are strongly encouraged. More info here.
Hot summer nights -> The Sizzling Nights are back at Autry Thursday in August. Expect salsa dance parties with after-hours gallery access at The Autry every Thursday night from August 4 through September 1. A limited amount of $20 non-member tickets are currently available for purchase. More info here.
Art & Beer Night LA -> Art & Beer Night LA ​​is coming to the Flying Embers Tap Room Thursday with 25 local artists, plus food trucks, beer, and hard kombucha on offer. $5 (pre-sale price) gets you in. Operates from 5 p.m. to 10 p.m. More info here.
Skirball Sunset Concerts -> The Skirball Cultural Center's annual world music celebration continues in August with four consecutive weeks of Thursday concert at the museum. This week, catch a performance by Booker T. Jones, complete with a dublab DJ set to precede the main event. Free access to museum exhibits is included with admission. Get more information here.
Advertisement
Dapper Day at the Original Farmer's Market -> Dress up in your most dandy vintage clothes and head to the original farmers market Thursday evening for a swing concert offered by Jumpin' Joz at the Market Plaza from 6 p.m. to 8 p.m. More info here.
Brew at the zoo -> This Friday, the evening lineup is back at the LA Zoo with Brew at the Zoo. Expect over 40 brews, plus animal sitter talks, live music, and bites to buy. Standard admission starts at $70. More info here.
Levitt Pavilion Concerts -> The Levitt Pavilion concert returns this weekend, kicking off Friday with the Meridian Brothers of Bogota, opened by psychedelic cumbia punk duo from East LA Tropa Magica. Saturday presents Thee Sacred Souls, Los Yesterdays, The Puppet Master and El Triste, and Sunday will be a special concert organized by the Mundo Maya Foundation. Get more information and all lineups here.
Jazz at LACMA -> This Friday At 6 p.m., the Los Angeles County Museum of Art hosts Don Littleton presenting Listen Here's tribute to Eddie Harris at Smidt Welcome Plaza as part of the ongoing Jazz at LACMA series, which continues Friday nights through 'in November. Admission is free, but places are limited and first come, first served. More info here.
DTLA Dance -> Free Friday dance parties continue at the Music Center's Jerry Moss Plaza in August. This Friday head out for a K-Pop party with instruction from Chuck Maa and tunes from DJ Boba Bear. For each event, you'll learn easy-to-follow steps, allowing everyone to get into the groove right from the jump. Very family friendly and always free. No reservation required. More info here.
Tchaikovsky show with fireworks -> The annual Hollywood Bowl fireworks display is back this Friday and Saturdaywith the conductor Ludovic Morlot at the head of the LA Phil in selections of Nutcrackerconcluding with a spectacular finale featuring Tchaikovsky 1812 Opening. Tickets start as low as $26. More info here.
Advertisement
Eat and drink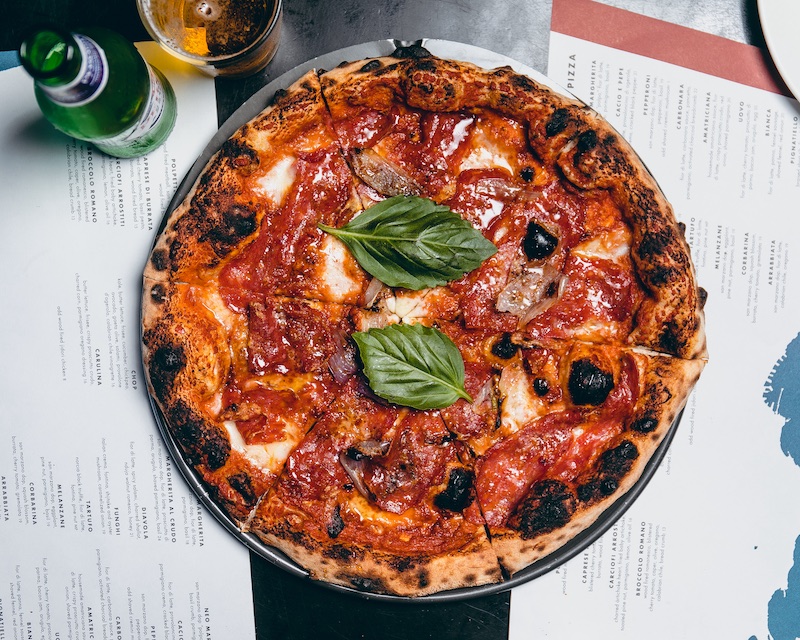 Happy Hour at Pizzana West Hollywood -> Pizzana is now in the Happy Hour game with a fantastic special at their West Hollywood location where $35 gets you a pizza of your choice and two cocktails or wines by the glass. Happy hour runs Monday through Thursday from 4:00 p.m. to 6:00 p.m. Cocktails are fresh versions of classic Italian cocktails such as the Tramonto Rosso with Tito's Vodka, Aperol, Lemon, Angostura and Lime Bitters, and Spritz Al Limone with Limoncello, Orange Curaçao, Lemon, Orange Bitters, Prosecco and Mint .
by Talula -> Tallula's in Santa Monica recently added a few weekly specials. Prepare for the week with Music Mondays from 6-8 p.m., where the Coastal Mexican Restaurant will showcase local musicians on their outdoor patio. Then on Tuesday it's all about tacos. Stop in from 4-9 p.m. for Taco Tuesdays where customers can enjoy all-night Happy Hour fare on snacks, drinks, and tacos. Tuesday-only specials like Jalapeño Miso-Glazed Rock Cod and Carnitas are also on the menu.
New menu items at Yakumi Burbank -> Yakumi in Burbank just added new menu items such as salmon crispy onion roll baked with soy paper, rainbow roll with cilantro mayonnaise, avocado Hanabi and more. The modern sushi restaurant also hosts a super weekly happy hour from 3-6 p.m., which includes 20% off rolls and $5 sake-infused sips.
---
Want the best things to do in LA delivered straight to your inbox? Join over 60,000 Angelenos subscribed to our twice-weekly email newsletter!
By subscribing, you agree to our Terms of Service and Privacy Policy and consent to receive emails from We Like LA regarding partner news, events, offers and promotions.
Advertisement