From one extreme to the other, the Senators are trying to cover all the bases in development camp in growing their next wave of talent.
Content of the article
Ottawa Senators prospects began their morning Tuesday circling tightly around the ice and hopping over sticks on one leg under the watchful eyes of respected skating expert Shelley Kettles.
Content of the article
They ended the day grabbing each other by the collar and throwing fake punches at each other as part of a lively self-defense lesson from combat trainer Guy Ouellette.
From one extreme to the other, the Senators are trying to cover all the bases in development camp in growing their next wave of talent.
Content of the article
"Yeah, polar opposites," development coach Shean Donovan said with a laugh. "Shelley is an important part of our staff and you have to have him now because skating is such an important part of the game. Everyone does it, that's how you get better. Skating is so much better than 10 years ago. And it will be so much better in 10 years.
As for the physical side of things, Donovan says it's more about making sure every player knows how to handle physical situations.
Content of the article
"Guy was with the organization for the past few years and we brought him back," Donovan said. "He's worked with guys like Matt Carkner and Chris Neil. Good to have him here to help the guys feel confident. There's a weird guy that has (fighting) as part of his game and they'll use that more, and there are guys that maybe can use the techniques to not get hurt. You don't want the kids getting hurt. This is the most important thing.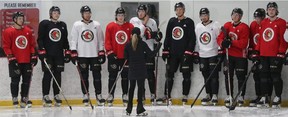 All of the above was welcomed by Oskar Pettersson, drafted in the third round, 72nd overall, by the Senators on Friday.
Pettersson, who says he embraces the style and brand of hockey employed by Senators captain Brady Tkachuk — he scored 25 goals and 11 assists in 46 games with Rogle's junior team in Sweden last season — absorbs everything he can get before he goes home.
Content of the article
"Especially now, the skating stuff we've done is really good for me," Pettersson said. "It's an area that I need to improve to take it to the next level. I take into account everything she says to be at my best.
It's not exactly summer vacation for Pettersson, who suffered from jet lag earlier in the week after flying to Ottawa from overseas on Sunday.
Once back in Sweden, he will take part in a national junior camp – for the world championships which will take place over Christmas, not the tournament in August – and then try to crack Rogle's senior squad roster.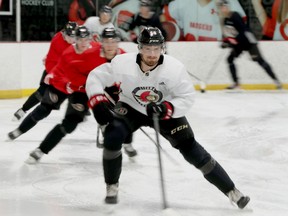 "There were crazy days," he said. "A little stressful at first, with the flight coming up. There are so many things to take in. It's just a great experience to be here and compete with other prospects and learn all the different things.
Content of the article
Along the way, there will be some downtime downtown, as Pettersson says he and some of his fellow Swedes plan to visit the city.
The whole band will head to Bluesfest on Wednesday night.
GROW FAST: In just about every way, center Phillipe Daoust was a late bloomer. Now 20, he's qualified to return to Belleville, AHL next season, riding a wave of confidence after winning the Memorial Cup with the Saint John Sea Dogs.
The road to get there was long. As a 16-year-old growing up in Barrie, he weighed 5-foot-3 and 140 pounds, overlooked in the OHL's priority draft. He eventually moved north, playing with the French River Rapids in the Northern Ontario Junior Hockey League.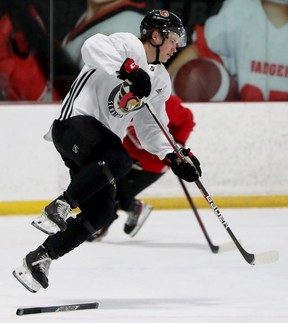 "I was born in November, still a little kid, smaller, lighter weight (than his peers), but my dream has always been to play in the NHL and at the highest level possible," Daoust said. "A lot of my buddies got drafted into the OHL, and I always practiced with them and was motivated to either join them in the OHL or find a way to play against them in the future."
Content of the article
Daoust eventually found a home with Moncton of the Quebec Major Junior Hockey League and after a decent rookie season, the Senators selected him in the sixth round, 158th overall in 2020.
Last season, the Senators signed him to an entry-level contract and watched him extensively with Belleville — he had five assists in 15 games — before sending him back to Moncton.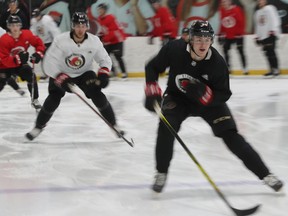 Moncton, in turn, traded him to Saint John, where he scored 24 goals and 23 assists in 38 games. Saint John lost in the first round of the QMJHL playoffs, but had an automatic Memorial Cup berth as the host team.
"It's been a crazy year, starting in Belleville and cracking the roster there," Daoust said. "I learned a lot. It's a great coaching staff. I loved the experience there, but they thought the best thing for me was to go to a Memorial Cup race.
Donovan says Daoust's story is one of dedication, battling size issues early on to become a highly skilled center who excels in power-play situations.
"You have to deal with trust issues, realizing you're a good player," he said.
"It's going to be a big year for him next season. He has really high-end skills and makes his linemates improve.
Twitter.com/Citizenkwarren