We've all seen 3D printed zoetropes and flip book animations drawn in the corner of notebooks. The fluid, changing shape of the layers that form on a 3D printer is satisfying. And we all know the joy of hidden and nested objects.
Hackaday graduate [Caleb Kraft] has a few pieces of art that all reflect all of that. It makes animations by recording a 3D printer. What's interesting is that his footprint is made up of two objects. An exterior with a normal filling that gives a solid shape, and a layered cake like the interior with a solid filling. It's documented in this YouTube video.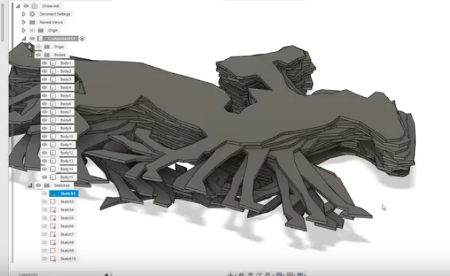 There are a lot of things to sort out. The outer object should be printed without supports. The thickness of the "layer cake" layers determines the frame rate. I had to wonder how he triggered the shutter when the head wasn't in the way.
His first, experimental piece is the classic "bouncing ball" animation, inside a ball, and his mature piece is Eadward Muybridge's "The Horse, in Motion" inside a camera. .
We have covered [Caleb Kraft] before, of course. His track Moon On A Budget is magnificent. And we have covered a number of 3D printer animations. and 3D zoetropes. We were particularly drawn to this one.
Thank you [jmc] for the tip!