He says that for kids, "they're different from their other toys. They're not those mass-generated ones. And it's like trading cards: kids love to collect things."
The store will be rent-free for four months as part of City of Melbourne's activation program, which sees artists and entrepreneurs occupy 75 vacant stores in the CBD, Docklands and Carlton.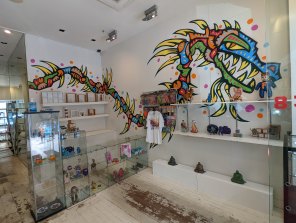 Mayor Sally Capp says it is one of the program's "unique and colorful" businesses that will draw visitors to the city. Landlords are still encouraged to come forward to offer vacant spaces.
Andersen, also known as the street artist Facter, is an avid toy collector and taught himself six years ago to make toys as an artistic venture. He created the toy brand Irikanji from Facter.
The meeting with Indonesian toy maker Cipta Croft-Cusworth at a toy fair in Singapore in 2017 inspired him further. Mr Croft-Cusworth moved to Australia a few months later, and Andersen credits him for kick-starting the local designer-toy-maker community by encouraging artist networks and organizing exhibitions.
Mr Croft-Cusworth and artist Liam Alkamraikhi have initiated the new store.
Andersen says designer toys abroad are "huge," especially in Asia, where exhibits would draw up to 75,000 people before the COVID-19 pandemic. He says there are more than 50 designer toy stores in Japan.
Among the artists contributing work to the Melbourne shop are Rachee Renee (Peachees Toy World) and Mr Croft-Cusworth's brand, Good Guys Never Win.
Andersen says prices can range from $10 to hundreds. A toy can be a one-off, or one of several dozen made from that design.
He says the public can buy toys from the store, meet artists and maybe be inspired to take up the craft themselves.
He hopes that there will be workshops and 'toy jams', where artists make toys together.
"It's going to be such a great place for our community to showcase their work," Andersen says. "It's going to be so much fun, I'm looking forward to it so much."
Captivating answers to mind-boggling questions delivered to your inbox every week. Sign up here to receive our new Explainer newsletter.