"If anyone tried to come in with a bulldozer, it would be all of us and half of Melbourne standing in front of that bulldozer," he said.
He said unions could lift the ban, if there was a proposal that retained the pub and was backed by other stakeholders, such as Melbourne City Council and the music community.
Trades Hall and the National Trust have jointly named The Curtin, as it is commonly known, to the state heritage register for its deep history of labour, trade unions and music dating back to the 1800s.
The Trades Hall opened in 1859, the same year a hotel was established on the site opposite where The Curtin now stands. The pub, then called the Lygon Hotel, was redeveloped in 1915 before its name became the John Curtin Hotel around 1969, when Bob Hawke was elected President of the Australian Council of Trade Unions.
The heritage request said the venue had "very significant" heritage links given its relationship to Hawke, the longest-serving Labor Prime Minister. Hundreds of people attended his unofficial vigil at the pub in 2019, including Opposition Leader Bill Shorten, Prime Minister Daniel Andrews and former Prime Minister Steve Bracks.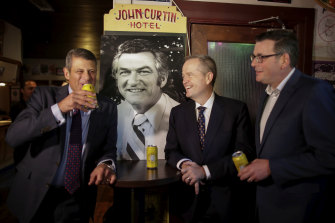 The application also said the site was significant for its continued role as a concert hall and its history of hosting bi-monthly Aboriginal band parties in the 1980s and 1990s.
Heritage Victoria – part of the Department of Environment, Lands, Water and Planning – reviews the application and will make a recommendation to the Heritage Council, an independent body which will make the final decision.
The City of Melbourne provided interim protection for the pub as "significant" local property, a lower level of recognition than the state register.
Loading
Deputy Mayor Nicholas Reece said places like The Curtin have heritage value, not just as buildings, but also for irreplaceable cultural and social value.
Simon Ambrose, Victorian chief executive of the National Trust, said green bans had saved some of Melbourne's most valuable heritage properties.
"The Curtin has been a community meeting place for over 160 years. Our aim is to make sure it remains a pub and a music venue, and doesn't become a facade with a block of flats behind it," Ambrose said.