The products featured in this article have been independently reviewed. When you buy something through the retail links on this page, we may earn commission at no cost to you, the reader. The Sports Illustrated editorial team is not involved in the creation of this content. Learn more here.
If you've ever set yourself up for a HIIT circuit in the gym, you've probably seen a piece of equipment that looks like a wheel with two handles. These workout tools are known as ab rollers, and if you've found yourself wondering how and why to use it, this guide was made for you.
Here, we've sourced a variety of ab rollers to fit every workout and every budget. After you've found the one that will work best for you, it's time to get to work. So, we tapped Noam Tamir, CSCS, CEO and founder of TS Fitness, to break down everything you need to know about why you should add an ab roller to your fitness arsenal, plus tips for how to get the most out of the piece of equipment.
Our Picks for the Best Ab Roller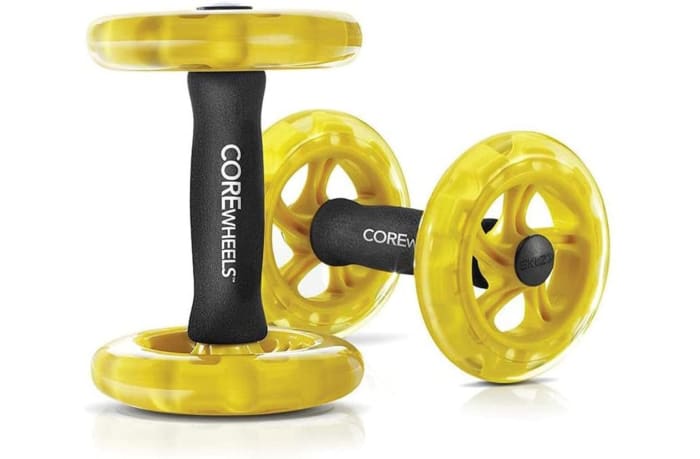 SKLZ is a brand that carries a wide range of portable fitness equipment and this ab roller set is no different. Rather than having one central wheel, this ab roller comes in two parts, allowing you to use it for more core, shoulder, torso and hip exercises. The lightweight core strength trainer features rolling wheels on each side and foam handles, making this an excellent alternative for a traditional ab roller.
Buy SKLZ CoreWheels ($45, amazon.com)
---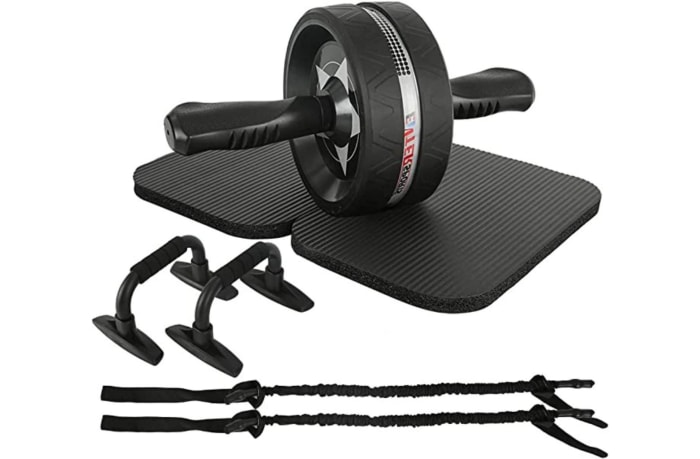 Using an ab roller can be difficult, especially when you're just starting out. The EnterSports Ab Roller comes with everything you need, plus equipment you can use when you're ready to level up. The wide roller helps with stability, and the foam knee pad provides a softer surface to help with any knee pain. As a bonus, the ab roller comes apart, making it great for small spaces or travel.
Buy Entersports 6-in-1 Ab Roller ($27, amazon.com)
---
If you've ever tried an ab roller and written it off because you found yourself teetering and unstable, this product was made for you. With a 3.2-inch flat wheel, the Vinsguir Ab Roller is wider than traditional ab rollers, offering more support and stability. Equipped with stainless steel handles, this sturdy roller can support up to 440 pounds. This ab roller wheel also comes with knee pads.
Buy Vinsguir Ab Roller Wheel ($26, amazon.com)
---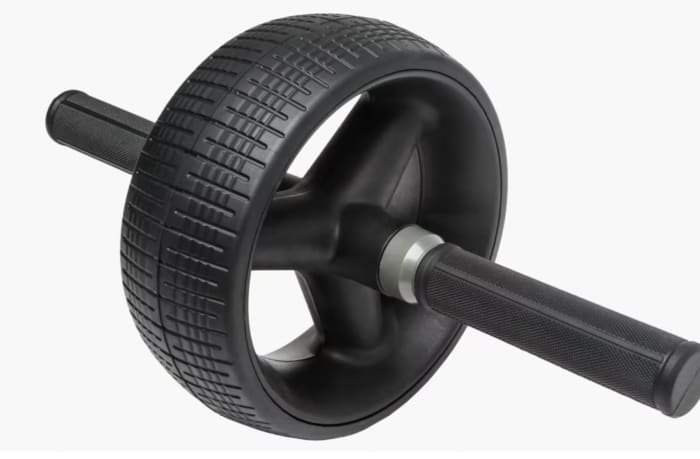 Rogue is known for its durable fitness gear made to hold up during Crossfit workouts, and this ab wheel is no different. The width of this ab roller combined with the rubber tread and a nickel-plated steel shaft will take your rollouts to the next level. The rubber tire tread makes this ab roller stand out in comparison to many budget plastic ab rollers you'll find, and is a great option for more advanced athletes. This wheel is slightly rounded on the edges, making it more challenging than a flat wheel to keep it in straight line during rollouts. Plus, users say this is one of the more solid, quality ab rollers they've used, and worth the more expensive price tag.
Buy Rogue Ab Wheel ($75, roguefitness.com)
---
Equipped with a carbon steel spring, the Perfect Fitness Ab Carver provides resistance on the roll out and assistance on the way back to start. The return to start is the most difficult part of the exercise, and if not done properly can cause injury. The padded handles are angled, rather than straight handles you typically see on an ab roller, and are designed to increase the arm muscle activation. Additionally, you'll get a 21-day workout program, which guides you through three weeks of training to build core strength.
Buy Perfect Fitness Ab Carver ($40, amazon.com)
---
The Priority Culture Ab Roller has one standout feature—elbow pads. Using an ab roller requires both core and upper body strength to keep your arms straight as you have to roll out. The elbow pads on this roller provide support as you build strength, and support your joints as you perform the move. This ab roller can support up to 330 pounds.
Buy Priority Culture Ab Roller Wheel ($90, amazon.com)
---
Once you've mastered the ab roller, one way to make the move more challenging is to add resistance bands. This Intent Sports Ab Roller features a dual wheel and soft foam handles to support your grip. The full kit includes resistance bands, equipped with loops on each end—a larger one for your feet and a smaller loop fitted for the handles of the ab roller.
Buy Intent Sports Ab Roller Kit ($27, amazon.com)
Building a home gym doesn't have to be expensive. For under $15, you can get this dual wheel rubber ab roller that can support up to 500 pounds. The ab roller comes with a spacer so that you can spread out the two wheels for more stability, making it a great buy for athletes of all abilities. This no-frills roller can be used on all surfaces, is lightweight and can be easily disassembled for storage and portability.
Buy King Athletic Ab Roller ($14, amazon.com)
---
If you're a beginner looking to add a new core strengthening exercise to your routine, this is the ab roller for you. The roller boasts a 3.7-inch width, which provides plenty of support and stability, and a non-skid rubber surface to help you hit your obliques, lower back and hips. While sturdy, the roller is also lightweight and easy to control.
Buy Bssay Ab Roller Wheel ($20, amazon.com)
---
If you aren't familiar with an ab roller, or can't quite execute the tricky move with proper form, a four-wheel ab roller is a great option. A four-wheel ab roller (sometimes known as an ab dolly) has more surface area, which is designed to make the move just a little easier. This model has four small wheels and sweat-proof foam handles to help you feel stabilized throughout your workout.
Buy Harrison Ab Roller ($40, amazon.com)
---
Why Buy an Ab Roller?
The ab roller is a challenging exercise, and one that can be beneficial, especially if you're looking to build a visual six-pack, Tamir says. The movement is very focused on the rectus abdominis and can help you build ab definition. If that is one of your fitness goals, adding an ab roller to your home gym setup can be beneficial.
How to Use an Ab Roller
Throughout the move, you need to ensure you have proper form otherwise you can injure your lower back. And keep in mind, you have to have a pretty strong core to do the ab roller, but there are ways you can make it easier when you're just starting out. Below, Tamir explains how to do the move, how to make it easier and how to make it more challenging.
Start in a tall kneeling position, with arms and wrists under your shoulders. Hinge at the hips and rest the roller on the floor. Moving the hips forward first and keeping a neutral spine, extend your arms out in front of you as you roll forward. Engage your glutes as you roll out as far as you can with a neutral spine, then in a controlled motion, roll back wheel toward starting position
For beginners: To regress the move while you're building strength and stability, start with a rollout. You'll roll out as far as you can comfortably go with a tight core and straight back, then drop to the ground. From there, reset to your starting position and repeat. Other options are to use an ab dolly or four-wheel ab roller, which has more surface area and makes the move easier, as it allows you to perform the move on your forearms.
To make it harder: Attach a resistance band to something anchored further out to add resistance, so that when you bring the ab roller back, you have to make that movement more controlled. You can also try a standing rollout or completing a single-arm move with a split roller such as the SKLZ Core Wheels Dynamic Strength and Ab Trainer Roller or a towel or slider.
How Often Should You Use an Ab Roller?
The ab roller should be used sparingly in your workout plan, Tamir says. You shouldn't use the tool more than twice a week, as it can make you pretty sore—you'll want to ensure proper recovery between sessions. It's also easy to insult your lower back if you aren't doing the move right, so you won't want to do it if you're too sore and unable to engage your core. And it's not recommended to do high reps, either. Tamir suggests a max of 12 reps on days you're using the ab roller.
What Muscles Do Ab Rollers Work?
The ab roller is almost all focused on rectus abdominis muscles—aka, the ones you typically think of as a six-pack. It also works assistance and synergistic muscles used to complete the exercise. So you'll be working the shoulders, triceps, glutes and lower body when you use the ab roller.
"It's a very hypertrophy driven core move; you can build the belly of the muscle," Tamir says.
You'll build shoulder stability and there can be solid benefits to it, but there are also some risks associated with using the ab roller. If not done properly, you risk injuring your lower back because of the strain and potential amount of pressure that may be applied there.
How Effective Are Ab Rollers?
It depends on what you're hoping to get out of the move. "If you're doing it to look good aesthetically, the ab roller is great. But if you want to build core strength, there are more functional exercises you can do," Tamir says. "It gives good muscle definition, but is not the most functional exercise."
By incorporating multi-directional movements, such as a standing rollout, bird dog rollout or single arm rollout, the movement becomes more functional. You can also look for a spring-loaded ab roller (like the Perfect Fitness Ab Carver) to create more tension.
How Many Calories Does Using an Ab Roller Burn?
As the ab roller is an anaerobic move, and you'll only be doing a few reps per workout, you won't burn many calories doing it. And keep in mind, you aren't doing this move to burn calories but rather to build strength, stability and muscle definition.
What to Look for in an Ab Roller
Size: When it comes to size, this will depend on your fitness and comfort with the move. A wider wheel will provide more stability, making the move easier, while a skinnier wheel requires your core and shoulders to stabilize it as you roll out and in.
Cost: You can find ab rollers at a variety of price points, and while there may be advantages of spending a bit more for quality or the features you want, you can find great budget options as well.
Shape: Whether you use an ab roller with a flat or rounded wheel is up to you. A wheel that has rounded edges is going to provide less stability and require you to engage your core and shoulder more, where one with flat edges will help to keep the roller on a straight plane as you use it.
FinalThoughts
Before adding an ab roller to your routine, consider your goals. If you're looking to build aesthetic muscles, you'll want to add this tool to your arsenal. Incorporating an ab roller into your routine will also help you build shoulder stability, but you have to be careful you have proper form or you're at risk of injury.
However, if it's overall core strength you're after, you can add this to your routine if you want but don't count on the move alone to create a solid core. And, if you're unsure how to do the move, seek help from a licensed trainer who can show you proper form and help you create a plan to incorporate it into your routine.
Prices are accurate and items in stock at time of publishing.